Learn How to Play and Win in 3 Card Poker
One of the well-known poker variations in the gaming world is 3 card poker. Most players who are new to the online casinos have not tried this one before, and therefore, they want to learn how to play 3 card poker and win. Fortunately, we are here to answer all the complicated questions that might come up to your mind. 
Get the best three card combination, compete against the dealer, and whoever has the better hand wins. This explanation of the 3 card poker is spot on. However, is it all about that? What are the other key factors that you need to know for succeeding in this genre? Let's find out together!
What is 3 card poker?
3 card poker is a variation of the basic poker table game. However, it is generally regarded as a relatively new type of online casino genre rather than the subcategory of traditional poker. The main similarity between video poker and 3 card poker is that the values of the cards and 52 card deck are in place. 
Though, that is pretty much it. It will help in the learning process if you have mastered traditional poker. However, you need to know that 3 card poker is another title, and only if you learn the essential rules, you can get an idea about how to play 3 card poker and win. You need to deposit some cash into your online casino account in three card poker and make bets afterward. 
As the number of cards is limited to only three, coming up with a straight is a lot harder than a flush. Therefore, the main difference in terms of this combination is about the rankings. In 3 Card poker, a straight is more powerful than a flush, unlike the traditional sweepstakes poker. 
Any hand combination in traditional poker that involves more than three cards is basically eliminated in this version. So, that means there are only 6 possible outcomes that you can form to win. What are they? If we rank according to the value of each hand, the rankings will look like this:
Straight Flush

3 of A Kind

Straight

Flush

Pair

High Card
What about the Wagers? 
While you play 3 card poker, there are a few options in terms of the type of bet that you can make. Those mainly include ante, play bet, pair plus, and the combination of these. Before the dealer hands out the cards, you need to make your final decision about the type of bet that you are going to make. You can pick ante on its own or bet on the combination of pair plus and ante. 
After this stage, you can get your cards. Once you get the cards and look at them, you need to make another decision that can impact the result of the whole draw. You need to either go on and compete against the dealer or fold that hand and lose the initial bet. If you make the play bet or ante after looking at your hand, you will compete against the dealer and win if your hand or the combination that you have is more valuable than the one which the dealer has. 
How to Play Three Card Poker and Win?
As you learn about different betting strategies and values of certain combinations in this internet sweepstakes game, it is time to unveil how to play 3 card poker and actually win real cash. So, in case if you make the ante bet after looking at your cards, then you are going to compete head-to-head with the dealer only if the dealer is qualified. 
The dealer should own queen-high to be eligible for this phase. In case if they are qualified, then you will compare the three-card combinations, and if you win, you will receive 1;1 of all the bets that have been made until that point, and vice-versa. 
On top of the regular prize, you can also enjoy bonus payouts in 3 card poker. So, whenever you win the hand with a straight flush, the bonus payout will give you in a 5 to 1 ratio; that number is 4 to 1 for three of a kind and 1 to 1 for a simple straight. 
Strategies that You Need to Know to Learn How to Play 3 Card Poker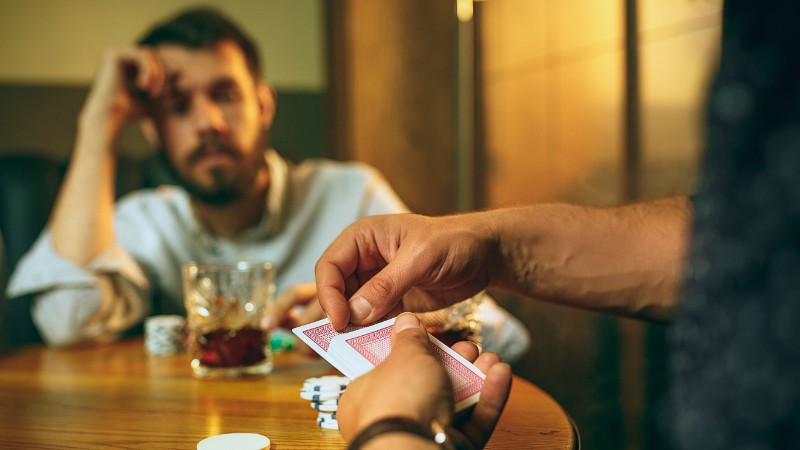 As you can see, learning how to play 3 card poker is not as hard as the traditional version. However, for these very reasons, players make some mistakes and think that continuing on every game regardless of the dealt card values will get the rewards. 
You need to be aware of the fact that those kinds of players are increasing the house edge by as many as 4 percent. So, in the long run, the amount that you can generate through 3 card poker decreases tremendously. Therefore, experienced players always try to stick to the Q64 rule. That strategy implies that only if you have 4, 6, queen, or higher value cards than these you can actually use a play bet afterward. 
While employing this strategy, you are not only decreasing the house edge and keeping it low, but also you are increasing your long-term profit margin by avoiding the consequences that could happen if you never fold in any other rounds where you got a weak hand. So, that is pretty much it in terms of how to play 3 card poker. For more information about online casino games like poker or any other genre, check out our blog page at Flamingo Seven.